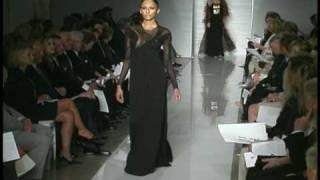 As a newly minted docent for the Phoenix Art Museum in 2006, I asked Dennita Sewell, curator of fashion design for the museum, to suggest a topic for my docent research paper. She led me to American fashion designer and artist Ralph Rucci.
From the moment I began my research, I found myself falling in love. It was RUCCI not Gucci or Pucci. His name was not yet a household word in Phoenix. When I expanded my research from the Internet to the couture department at Neiman Marcus I learned he was unknown there as well.
As I dove headlong into learning more about this Philadelphia born designer, I fell deeper under his magical spell. I even traveled to New York City to view the 25-year retrospective of Rucci's work at the Fashion Institute of Technology Museum and became more enthralled by his fashion genius.
In 2008, Ralph Rucci came to the Phoenix Art Museum for an exhibition of his work. It was then that I discovered I was his stalker. I kept popping up in the museum's Fashion Gallery, at Neiman Marcus for his debut collection and at the brunch held in his honor. I never expected to ever meet a celebrity designer. As a diehard fashion fan, I found myself falling in love with Rucci's artistry. My passion and appreciation for his incredible designs compelled me to follow him from venue to venue. He named his fashion house Chado Ralph Rucci after the name of the ancient Japanese tea ceremony that involves 331 steps for making, serving and drinking tea. The name embodies his respect, passion and discipline for detail, care, artistry and grace embodied in his work that turned me from a fan into a devotee of his talent and vision.
Stephanie Thier